This last week Kerry had his port a cath placed to be able to have easier lab draws and for the continuous chemo pump. He also had a head CT scan, PET scan and we met with the radiation oncologist and our regular oncologist again. It was a busy week and felt very long.
The port placement went well. He had an allergic reaction to the soap they used to clean his skin and broke out in hives. So we added that to his allergy list and gave benadryl until it cleared up. The port site seems to be healing well and he says it's not near as sore as it had been. He went back to work on Wednesday without much trouble.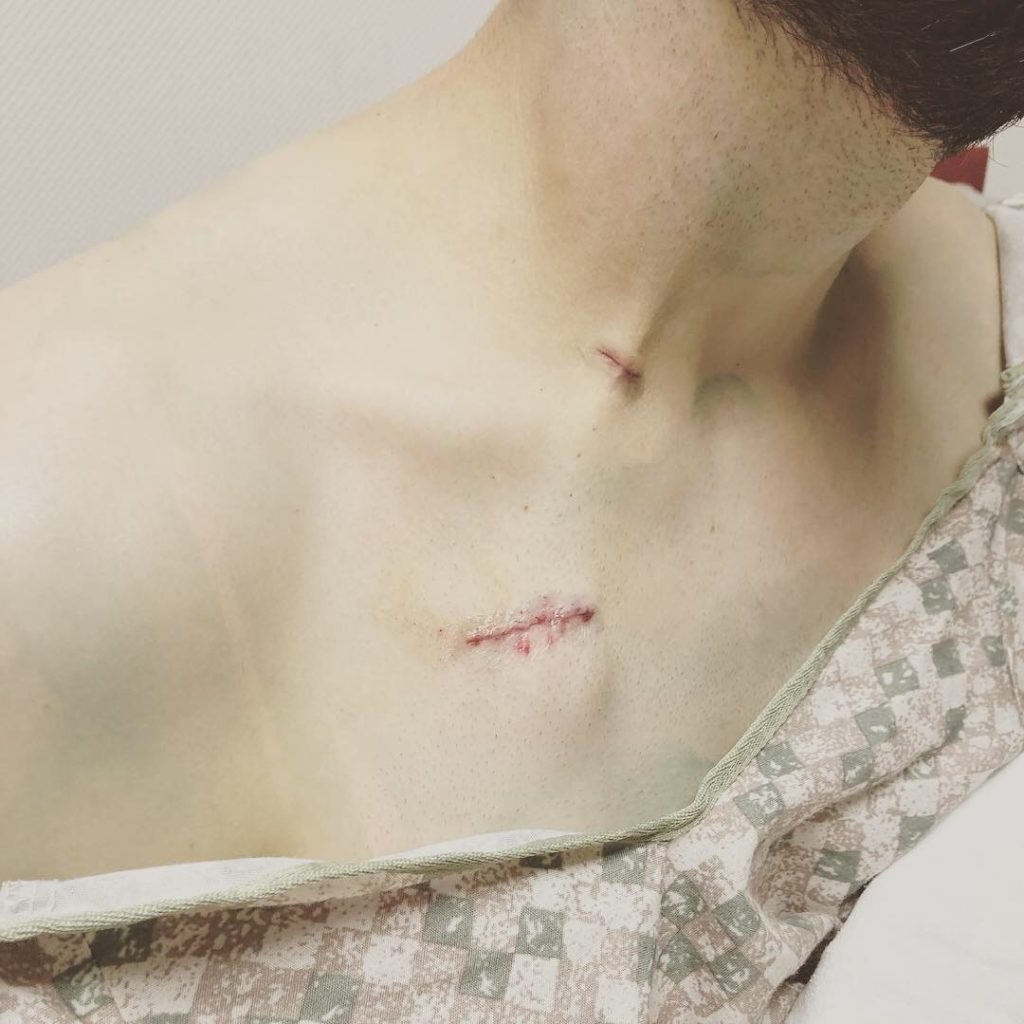 Tuesday he had a PET scan and we met with the radiation oncologist. The worst part this week was waiting for the results from the head CT and PET scan. We didn't get those until Thursday afternoon when we met with Dr. Mattar. The head CT was clear. The PET scan and chest CT from a few weeks ago showed a nodule in his left lung. Dr Mattar felt like it was likely benign, but they will be watching the spot closely and Kerry will have another CT scan in 3 months to monitor.
During his radiation oncology appointment we met with Dr. Rine. He spent lots of time with us answering questions and going over the recommended treatment plan. He was very straightfoward, honest and easy to talk to. They also marked Kerry for radiation and ran through the simulation of what radiation would look like. He got his first 3 tattoos (tiny freckle sized dots) on each hip and lower back to help align for treatment each week.
Thursday we met with Dr. Mattar, we were the last patients of the day. He joked with Kerry about our 'notebook of questions' and explained things very well. We have a treatment plan and will be starting that tomorrow (Monday). Dr. Mattar again went over risks and benefits as well as why this is the recommended course of treatment.
Kerry will work a half day Monday until 11. Then he will drive to Newton to have labs drawn and will get the chemo pump put on around noon. His first radiation treatment will be at 2:15 in Wichita. They say that the first couple of weeks aren't bad, but week 3 the fatigue hits. Kerry is hoping to work as much as possible as long as he is able. Since he will do radiation every day during the week that means he will be working half days mostly. We are so very thankful that his job is willing to work with him and allow him to continue working.
Some specific ways you can pray for us and for Kerry:
First and foremost that we would glorify God in all things. Specifically that we would be sensitive to opportunities to share the gospel and the hope that we have in Christ with others. We have a unique opportunity in this, pray that we use it for His purpose.
That Kerry has minimal side effects during treatment. He is hoping to work throughout.
Pray for our children. That Kerry and I lead them well in times of stress and times of unknown outcomes. Pray that we remember and teach them that our hope does not lie in any medical treatment, diet or lifestyle change, but that our hope lies in Christ and Christ alone.
Healing. We ultimately pray for Kerry's healing and that he will be granted many more years on earth without cancer. We trust that the Lord's will will be done and even if He doesn't heal Kerry…He is still good.
We thank you all for the prayers, meals, encouraging notes and acts of kindness you've shown to our family. We have been blessed beyond measure and we are thankful.