6 years…in many ways it seems a life time ago and it is. So much has changed and yet this day is one I will always stop and reflect on the life and death of our first daughter Lily.
I think of how different our family might be if she had lived and how she never would have existed if Knox had lived. How we could be celebrating the 6th birthday of a son or the half birthday of a daughter who would be 6 in November.
I think about how much I have learned from that experience and the 6 years since. How it grew my faith and understanding of God's sovereignty. It changed how I care for others.
Today as I turn 29 weeks, expecting our 2nd daughter in August, I think about the blessing of being a mother who has experienced tremendous grief at the loss of a child and who also knows the joy of welcoming a new baby to the family.
We've talked about names and how we will honor her memory in the birth of this child, just as we did for Knox when Zeb (Zebediah Knox) was born. We pray that God will lead us to choose the right way to do so without minimizing Lily's life or her importance in our family.
I'd be lying if I said I wasn't a little bit anxious as I prepare for her birth. Fear that maybe I won't be able to hold a little girl at the end of all of this. You see, that's the crazy thing about grief and losing a baby…you're never quite sure when it's "safe" to let your guard down.
I've never longed for a daughter like some mothers do, my boys are pretty amazing to be honest. But losing a baby changes your perspective…I don't care whether I have a daughter or son…instead I long for a live baby. A baby who takes it's first breath and cries beautiful cries. Who looks at the world with wide eyes and hears her brothers and parents celebrate her birth.
So I pray…I pray for her safety, her life and that whatever happens God will use me in the way He sees fit. I pray that I will surrender to what God has in store. That if He grants me the beautiful privilege of a daughter I will be the mother I need to be for her. That she will grow to love Him and others.
Six years ago, we said hello and goodbye on the same day. We held her for the first time and the last time. We didn't forget, we won't ever forget. But we are thankful for her and the way she touched our lives and taught us much about the treasure of life.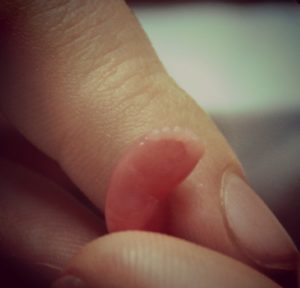 Psalm 139: 13-16
13 For You formed my inward parts;
You wove me in my mother's womb.
14 I will give thanks to You, for I am fearfully and wonderfully made;
Wonderful are Your works,
And my soul knows it very well.
15 My frame was not hidden from You,
When I was made in secret,
And skillfully wrought in the depths of the earth;
16 Your eyes have seen my unformed substance;
And in Your book were all written
The days that were ordained for me,
When as yet there was not one of them.