I've wanted to sit and write the story if Lily's birth several times but I could never find the right words. It was such a sweet day. My labor and her birth were an answer to prayer. I've relished the details over and over. 6 months later, I'd better get it written or it won't happen.
Leading up to my due date (August 4), I was increasingly anxious about the impending labor. I worried that it would be very long and drawn out because this pregnancy had been so very different from my others. There was also an underlying current of anxiety that I had trouble putting words.  I prayed often for her birth and for her safety.
Here are the notes I took from her birth:
Sunday morning. 0715. Woke up feeling not great. Just blah. Stupid irregular contractions. I'm feeling them more in my lower back. I'm starting to wonder if I might be pregnant forever or maybe this is labor. I'm not sure.
0744: Text to Brandi (my midwife). Good morning. I woke up in labor (I think). Contractions every 4 minutes lasting 50 seconds. Membranes intact, lots of low back pressure. Baby moving well.
My contractions all morning would get closer together and then space way out. I wasn't sure this was really it. I was pretty comfortable and I had time to sleep in between. I told Kerry I wasn't going to church another week without a baby in my arms. So we stayed home, he wasn't one to argue.
1044: Text to Brandi. Starting to get a little more uncomfortable. Contractions every couple of minutes lasting 50-60 seconds. Baby moving well.
Brandi and Kathy (my other midwife and Brandi's mother) had just finished church and were going to see a family member who had been ill. I was totally fine with them not coming yet because I still wasn't sure this was it. At 1130 they texted to see how things were going. Actually…at that moment they weren't. After my last message to them, my contractions almost completely stopped. So much so that I'd napped. I was so afraid I was going to call them way to early or very much too late and end up having this baby without them (we've been there and done that). So they were going to get lunch and then come check on me. That sounded like a great plan to me.
Around 1: Text to Brandi: Not in the tub yet, but it sounds nice. Contractions are every 3-4 minutes and feel very intense. Baby is moving well.
My contractions had changed from being in my back to up front but they were still so irregular. The pool sounded really good, but I didn't want to get in too early and stall my labor. In the meantime, the little guys went down for nap. My mom had brought lunch and was going to stay until baby was born. I thought we were going to be in for a long day.
Around 1:30 the midwives got here. I was so worried I'd called them too soon and they were going to tell me I was 3cm. The big boys helped carry in equipment and Kerry filled the pool.
Kathy checked me while Brandi started filing out paperwork and setting up. Kathy said the baby was in great position. Then she said the sweetest words I've ever heard "You're a good 8-9cm". I cried I was so happy. I was so certain this wasn't the real thing. I may be the first labor patient to cry happy tears about being in labor.
I couldn't wait to get in the pool and relax a little. It was wonderful! My contractions stayed irregular but were intense when I had them. In between, we talked and joked with our midwives. We had worship music playing and it was perfectly peaceful. Kerry always knows just what to say when I'm in labor. Usually it's something to make me laugh.
About 2 I started to feel a little more uncomfortable and my contractions were much closer with no breaks. I remember telling Brandi I felt kind of pushy and she told me to go ahead. I felt very calm and collected. Sometimes I have been panicky at the end and I hate feeling so out of control. This time though…it was just serene and wonderful.
Kerry stepped out to let mom know the baby was close. She came down with my second push and I told Brandi "Here she comes" and she was born right after that at 2:18. It was so beautiful. No panic, no rush, just calm and peaceful and perfect. I was on my hands and knees so Brandi passed her up to me. The instant she came out of the water she started wailing. Louder than any of our other babies. She was making her presence known! She was so pink already!
I double (and triple) checked that she was indeed a girl. I was so overjoyed and thankful to have a healthy girl. I was grateful God granted me the privilege of her birth.  There had been so much anxiety that I hadn't realized. I think deep down I was worried that she would die too. That maybe somehow I was unworthy of having a daughter. I surprised myself and was overcome by emotion. I burst into big ugly crying. I am not a crier by any stretch so it really caught me off guard. I just kissed her sweet head and thanked God for his provision and His blessing.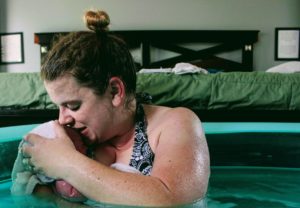 After that Kerry cut the cord and wrapped her up to show her to the boys while I got out of the pool and dried off. Shortly after that the little guys woke up and got to come meet her. The moment big brothers meet a new sibling is one of my favorite moments ever. It was so fun to see them watch Kathy like a hawk as she weighed and measured their baby sister. She weighed in at a BIG 9lbs 5oz! Biggest baby yet.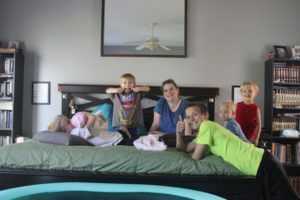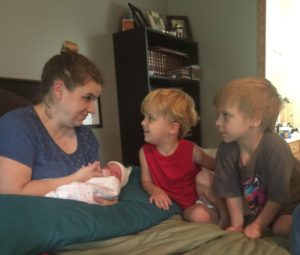 These first 6months have gone fast. I can't believe how much joy she has brought to our family. Her brothers love her and they tell her how beautiful she is every single day. She has big brother Gabe wrapped around her finger and she saves some of her biggest smiles for him.
I thank God every day for the blessing of our children. Lily's birth was such a sweet spot for me. I am grateful that God is His infinite wisdom granted us the privilege of having her in our family. We pray that she grows up to love and glorify Him.