My husband was a little skeptical of this recipe because they're "white sauce" enchiladas, but they're a huge hit at our house. They're on our menu this week and I can't wait to eat them.
1 med chicken, (I usually buy several whole chickens and roast them in the oven then de-bone and freeze for later use)
6-8 large tortillas (you'll need a few more in my experience)
2 small cans black olives (we totally leave these out)
1 large can green chilies, chopped (I used Pueblo Chilies)
1 onion, chopped
Sour cream to taste (I usually use about 6-8oz)
1+ cup shredded cheese (I've used cheddar or a ched jack mix)
1 can cream of mushroom soup
1 can cream of chicken soup
1/2-1cup milk
Mix soup, sour cream, green chilies and milk. In a 9×13 pan spread just enough of the mixture to cover the bottom of the pan. Shred chicken (if not already done). Put equal amounts of chicken in tortillas and a little cheese and onion (and olives if using). Roll tortillas and place in pan seam side down. Pour remaining sauce over the top. Top with remaining olives, onion and cheese. Bake at 350 for 25-35 minutes or until bubbling.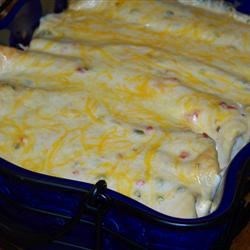 This post is linked up at